Artworks
Tanglewood Art and Frame Gallery carries a large selection of prints as well as original art. We also offer hundreds of unframed reproduction and original artworks. Phillip Philbeck, Bob Timberlake, and Marsha Heatwole are just a sample of artists' work we carry.
Finish corner and reproduction frames
We work with several manufacturers of custom made and finished frames. These can be fabricated and finished to order to meet the customer's wishes or to match a historical style.
Collector framing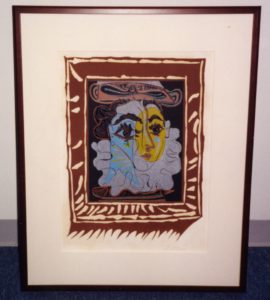 "Portrait de Femme a la Fraise et au Chapeau" By Pablo Picasso Collection of Wake Forest University-Framing by Tanglewood Art & Frame Gallery
We have extensive experience working with major collectors, collections and museums to provide conservation and museum grade framing for fine, sensitive and high value artworks and objects. Works of art on paper and documents are a specialty. We can work in coordination with conservators and curators. References and framing projects which can be viewed in place can be provided upon request.
Commercial, volume and artist framing
We provide placement, artwork and framing for small commercial interiors. We provide volume framing of certificates, exit plans, signage, awards, and more. We work with artists to provide standard framing packages. Commercial, volume, and artist framing will be priced with competitive rates and discounts based on the order size, quantity and other efficiencies.
Framing materials
Frames for assembly, matting, foam core board, mats, glass, and almost any other material we sell (or can order) can be purchased at Tanglewood Art. We reserve the right to refuse sales to resellers.
Display preparation
Have something other than framed art you want to hang on the wall or safely display? We can help. We have prepared rugs, tapestries, low relief sculptures, signs and many other objects to hang without framing. We can help with display solutions for objects not easily displayed, or with cases, vitrines, or boxes to protect objects such as hats, ornaments, flowers, folded flags, books, and more. We can custom-build bookcases, sculpture pedestals, cantilevered frames, and other custom displays.
Display products
We stock a selection of easels and stands for framed art, plates, bowls, trays and similar items. We stock a small selection of acrylic boxes and glass domes. We can order both stock and custom acrylic boxes, glass domes, vitrines and similar products and adapt them to your object.
Conservators and restorers
We have long experience working with conservators, particularly paper conservators. If your artwork is of substantial personal, monetary, or historical value and in need of repair, we can recommend and help you consult with a credentialed conservator or experienced restorer to assess your art, document or object. We can assess your art and advise whether its value or significance merits pursuing conservation or restoration.
We repair :
-Cracked, damaged or separated frames -Replace glass -Replace mats -Touch up artwork* -Clean artwork* -Provide repair and replacement insurance estimates -Salvage fire and water damaged art and framing -We've repaired everything from ceramics to sculptures to displays. Give us a call and we will let you know if your broken object is something we can help with. If we can't tackle it we will try to point you to someone who can.
*We are not art conservators or restorers. If your artwork is of substantial personal, monetary, or historical value we will recommend you consult a credentialed conservator, or experienced restorer, to assess your art, document or object. We can help you contact them and consult with you on the process.
Photo Restoration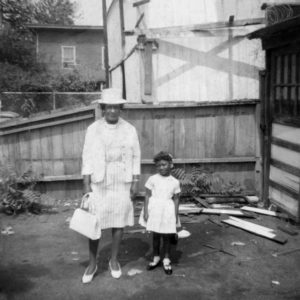 Before After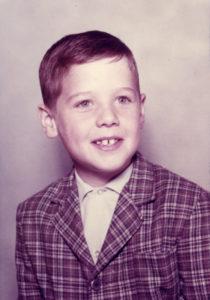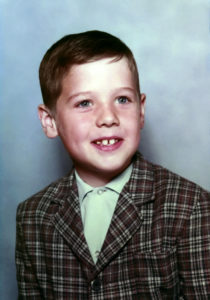 Before After
We can digitally scan, repair and archivally reproduce your photographs. Photos can be enlarged or reduced. Photographic elements can be removed, inserted or combined from different photos.
Consultation
We offer consultation in home or at your place of business for art placement and framing design.
Art Assessment
Have art that you need assessed for its value or significance? We can provide initial consultation and give guidance regarding the need for preservation or appraisal.
Picture Hanging
We provide professional picture hanging services. We can hang oversize art, mount art on masonry surfaces, solve difficult hanging challenges or hang art in high locations. We hang mirrors. We can advise on placement of artwork for your interior. We can provide display solutions for art and craft objects, textiles and many other decorative items. Contact us for an estimate and to schedule. References available.
Delivery and pickup
Pick up and delivery of artwork and frames is available for a fee. Prices vary based on size, location, number of pieces and other factors. Contact us for an estimate and to schedule.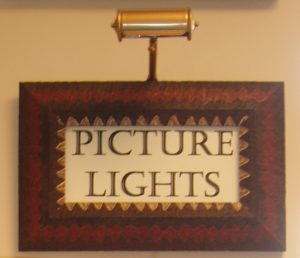 Picture lights
A selection of lights is available for when your picture needs that extra touch.
Engraved Plates
We offer custom engraved plates to complement framing projects.
Calligraphy
Calligraphy is available to incorporate into your framing project.
Packing and shipping
Need to ship your art and be sure it arrives undamaged? We pack and ship framed art. We have specially designed packing to prevent damage, and we understand how to prevent damage to frames and art. We also provide crating services. We ship through UPS, FED EX, USPS or through dedicated art transporters for high value or fragile pieces.
Save
Save
Save
Save
Save
Save
HOURS:
Tuesday – Friday 10:00am – 6:30pm
Saturday 9:30am – 1:30pm
Monday & Sunday – Closed
ADDRESS:
4152 Clemmons Road, Clemmons, NC 27012
PHONE:
336-778-0060
EMAIL:
tanglewoodart@bellsouth.net