Tanglewood Art and Frame Gallery was established in 1998 by Caren Carter-Lowrie and Al Lowrie. Caren and Al met at Wake Forest University where they both graduated with degrees in Studio Art.
Caren has worked in retail and wholesale framing businesses since 1986. Her 30 years of experience and knowledge from tens of thousands of pieces framed goes into every project completed and every design created.
Al spent years in the construction industry before opening Tanglewood Art. Al uses his knowledge of materials and structures, love of woodworking, and 17 years in picture framing to inform the design and craftsmanship of their work.
Caren and Al have maintained a lifelong love and interest in art, craft and history, and are collectors of art, knowledge they use to assess and design the framing for each piece.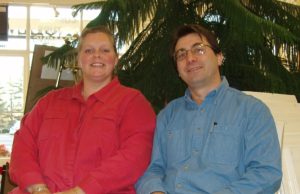 Save
Save
Save
HOURS:
Tuesday – Friday 10:00am – 6:30pm
Saturday 9:30am – 1:30pm
Monday & Sunday – Closed
ADDRESS:
4152 Clemmons Road, Clemmons, NC 27012
PHONE:
336-778-0060
EMAIL:
tanglewoodart@bellsouth.net